Photo: Mom. Tunesia, 1989.
---
Just's breathtaking photos are dramatic documents of daring graffiti artists in action. Through them you can vicariously experience the danger and thrills of rooftop writing." – Martha Cooper.
---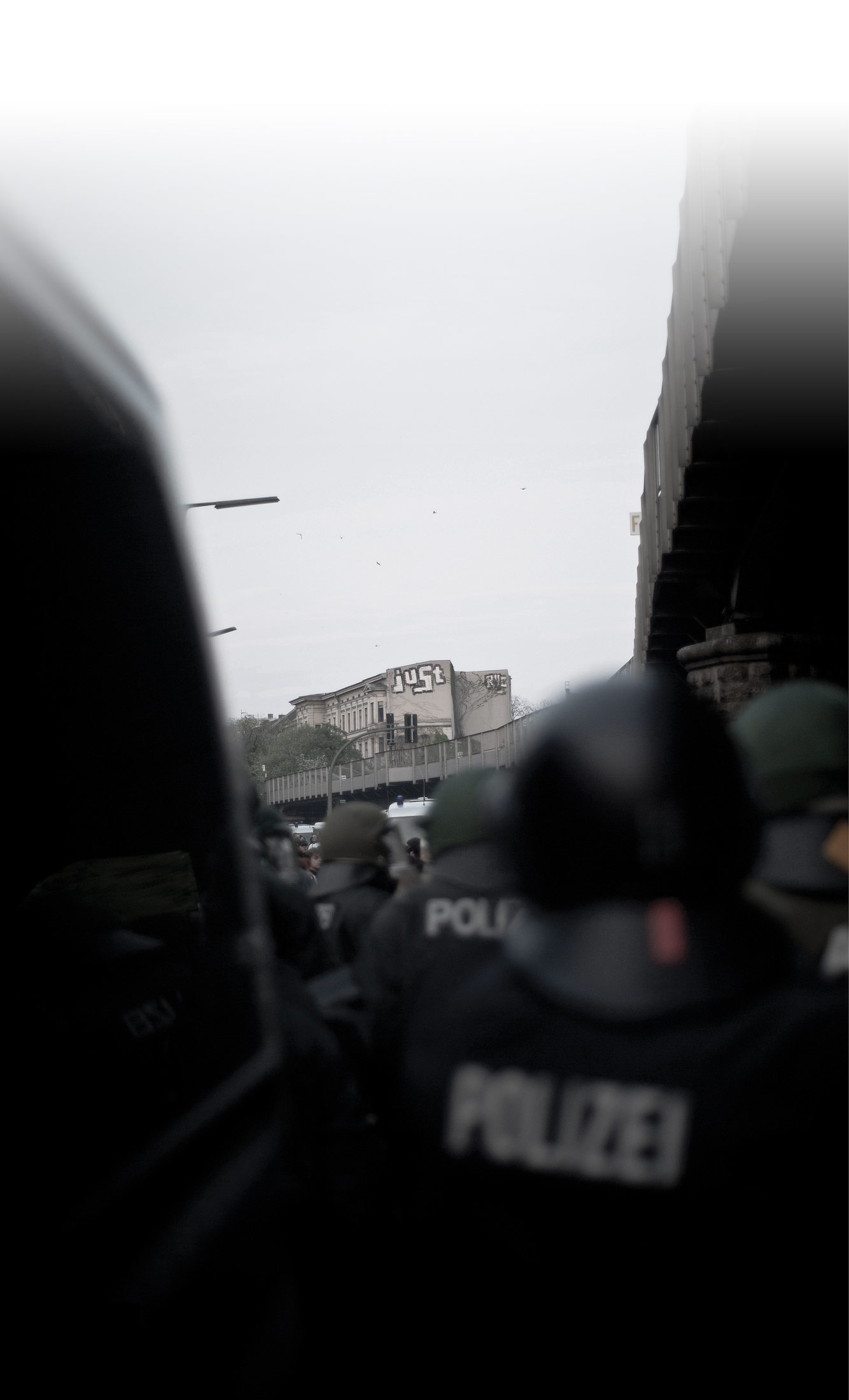 Contact:
Mail: bo.niehaus@gmail.com
Skype: bo.niehaus
Regular Updates on: INSTAGRAM, FACEBOOK, TWITTER, YOUTUBE, VIMEO and DIASPORA (just@wk3.org).
Some of my Photos can be found here: DEMOTIX, CORBIS and FLICKR.
Here´s my Profile on Wikimedia-Commons.
Here´s my Profile on Frontline Freelancer Register.
---
[vc_row][vc_column width="1/1″]
ABOUT
Der Berliner JUST gehört zu den bedeutendsten Fotografen der Grafitti- und Street-Art-Bewegung – seit rund 15 Jahren fotografiert er Künstler, die heute schon zu Ikonen geworden sind, und dokumentiert in brillanten Bildern die Höhepunkte urbaner Kultur.
Ob spektakuläre Interventionen von Brad Downey und Mark Jenkins, monumentale Wandarbeiten von Blu, FAITH 47 und NOMAD, radikale Performances von ZEVS, Doma und Dave the Chimp oder Galerie- und Museumsschauen von DAIM, D*Face und EVOL – JUST war dabei. Seine unkonventionellen Fotografien sprühen voller Energie und Leidenschaft, weil er selbst Teil der Szene ist, die er dokumentiert. JUST sprüht selbst seit über einem Jahrzehnt, kennt die Wände und Hausdächer von Berlin bis Bangkok, und die Protagonisten der Szene sind seine Freunde – und genau diese Nähe und Intimität merkt man seinen Bildern an. Seine Fotografien sind lebendig: Sie symbolisieren die Freiheit auf den Hausdächern und die Ästhetik der Großstadt, sie riechen nach feuchter Farbe und dem Schweiß einer durchmalten Nacht und sie zeigen die Farbkrusten unter den Fingernägeln der Writer und die mit Farbe vollgesaugten Pinsel in farbenfroher Pracht.
JUST, dessen Photos auch in Büchern und Ausstellungskatalogen, sowie unzähligen Magazinen und Tageszeitungen zu finden sind, ist ein stiller Beobachter urbaner Metropolen. Er gehört dazu, ist überall und doch unsichtbar. Einzig mit ein paar Dosen und seiner Kamera bewaffnet zieht er durch den Großstadtdschungel – und hinterlässt als einzige Spuren seine Bilder und Graffiti. Text: Blain Aieber (ART-Magazine).
[/vc_column][/vc_row] [vc_row][vc_column width="1/1″]
Publications
Magazines, Newspapers .. (Print & Web) (Selection):
Huffinton Post UK, VICE, Focus-Online, New York Times, Cicero (Cover), ART Magazine, ZEIT-Online, Zitty, TIP, Spiegel Online, Tagesspiegel, NRZ, Rugged, Modart, Backspin, TAZ, PRINZ, Missy Magazine, Berliner Zeitung, Mondial, Streetwear Today, Ehrensenf, Unclesallys, Linux Magazine, TRUST, VNA, HATE Magazine, WIRED, PROUD-Magazine, BVG-Magazine, 030, Marx21, DesignWeek, Tages-Anzeiger, derFreitag, Greatest Berlin, Amateur-Magazine, Siegessäule, ANIMALNEWYORK, Rolling Stone.de, Prager Frühling, Plastic Bomb, RAP.de, the Guardian, BR Bayerischer Rundfunk, The INDEPENDENT, INTERNAZIONALE (spain), STERN (web), European Council on Foreign Relations, HEISE, Deutschlandfunk, Frankfurter Allgemeine Quarterly …
Books, Catalogues .. (Selection):
Backspin the Live Issue #3 (FHTF), Call it what you like / Rik Reinking (KunstCentret Silkeborg Bad), Streetart in Berlin (Jaron Verlag), Urban Art aus der Sammlung Reinking (Hatje Cantz Verlag), Part of Rebellion Part 2 (Publikat), Mural Art 1 & 2 (Publikat), Beyond Architecture (Gestalten Verlag), MODART BOOK 1 (Gingko Press), INGRAFIKA, TURMKUNST (Jaron Verlag), THE ART OF REBELLION 3 (Publikat), URBAN INTERVENTIONS (Gestalten Verlag), GRAFF WARS (Kontur Publishing), OUT OF STH (BWA WROCLAW), Vergesst Auschwitz! (Albrecht Knaus Verlag), ???????? (Korea) .., Berlin Graffiti Reloaded (Jaaron Verlag), VELO (Gestalten Verlag).
Video (Selection): BR (Bayerischer Rundfunk), RUPTLY, Extra-3 (ARD).
Exhibitions
br>
2007 Backjumps the Live Issue (Berlin)
2008 & 2009 Urban Affairs, Berlin (
Info
)
2009 (Solo) ATM-Gallery, Berlin (
Info
)
2009 30Works, Cologne (
Info
)
2010 Inoperable, Vienna (
Info
)
2010 EVOL & JUST (Month of Photography), Berlin (
Info
)
2011 Hallenkunst, Chemnitz (
Info
)
2013 Letters from Aleppo, Stattbad Wedding Berlin (
Info
)
2013 Looking for Freedom, Budapest (
Info
)
2014 CONSSPACE, Berlin (
Info
)
2014 COLLECTION | Gallery Group Show, Berlin (
Info
)
2015 BUNDESKUNSTHALLE, Bonn (
Info
)
2016 44309-Gallery in Dortmund (Groupshow)
2016 V9-Gallery in Warsaw, Poland (
Info
)
2016 BRAIN DAMAGE GALLERY in Lublin, Poland (
Info
)
2016 Schaufenster, Berlin (
Info
)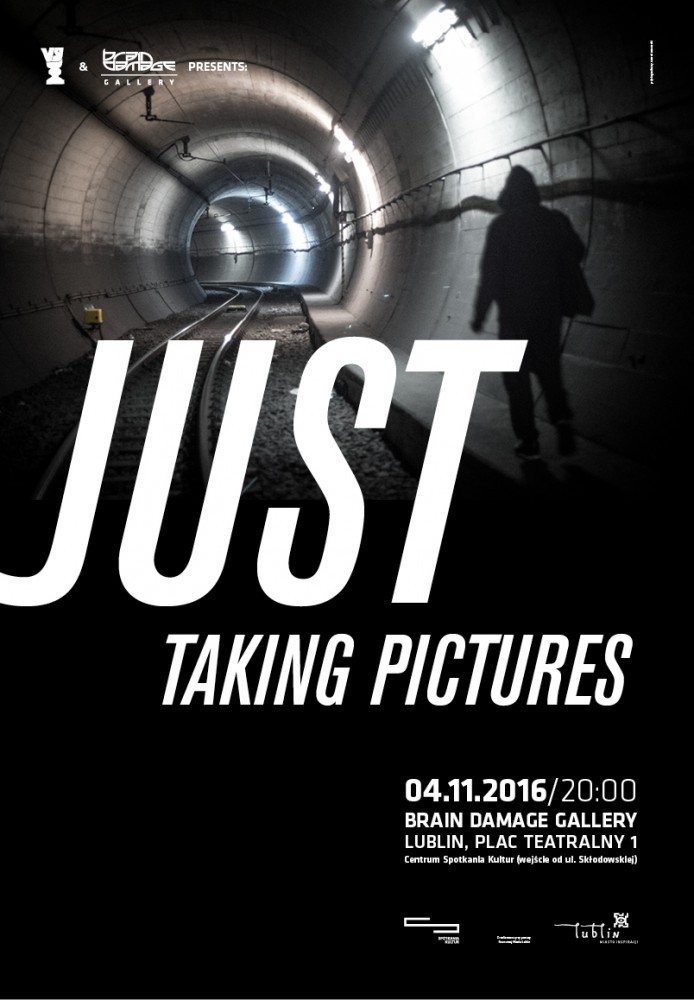 Projects / Clients
br>
– ARTE
– JUEDISCHE GEMEINDE / BERLIN
– ARTOTALE University of Lüneburg
– TURMKUNST
– REINKING PROJEKTE
– BERLIN FESTIVAL 2011 & 2012 & 2015
– ZEITKLANG (Converse)
– Backjumps / Kunstraum Kreuzberg – Bethanien
– BWA Wroclaw-Galleries of Contemporary Art
– HARD TO PORT
– UFAM Ruhr
– ALLCODESAREBEAUTIFUL – Webdesign Netzwerk
– neuen Gesellschaft für bildende Kunst (nGbK)
[/vc_column][/vc_row]
Portfolio:
This Part is still under construction. You might like visit my old Website for a more sorted overview.
Clips:
Photos (selection):

[vc_row][vc_column width="1/1″]
WHALER WATCHING CAMPAIGN 2015
The Whaler Watching Programme is a citizen-led campaign to document and expose the full truth about commercial whaling in Iceland. Our organisation holds the belief, shared by the overwhelming number of individuals and governments worldwide, that the slaughter of these majestic animals for commercial purposes is unconscionable and ethically questionable.
Some more Infos can be found here: http://hardtoport.org // some more photos.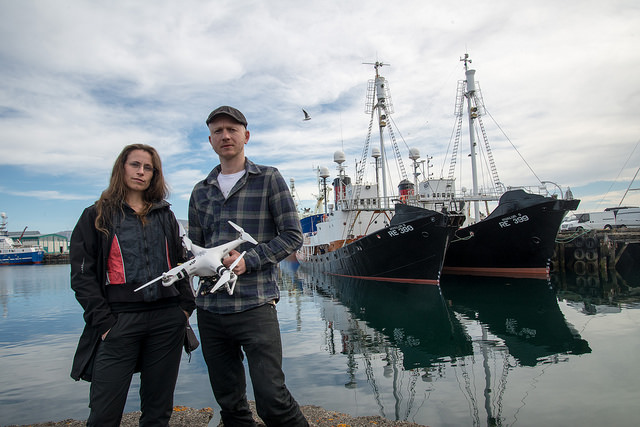 Photos: Hard to port kicks off anti-whaling campaign in Reykjavik, Iceland 2015.
[/vc_column][/vc_row]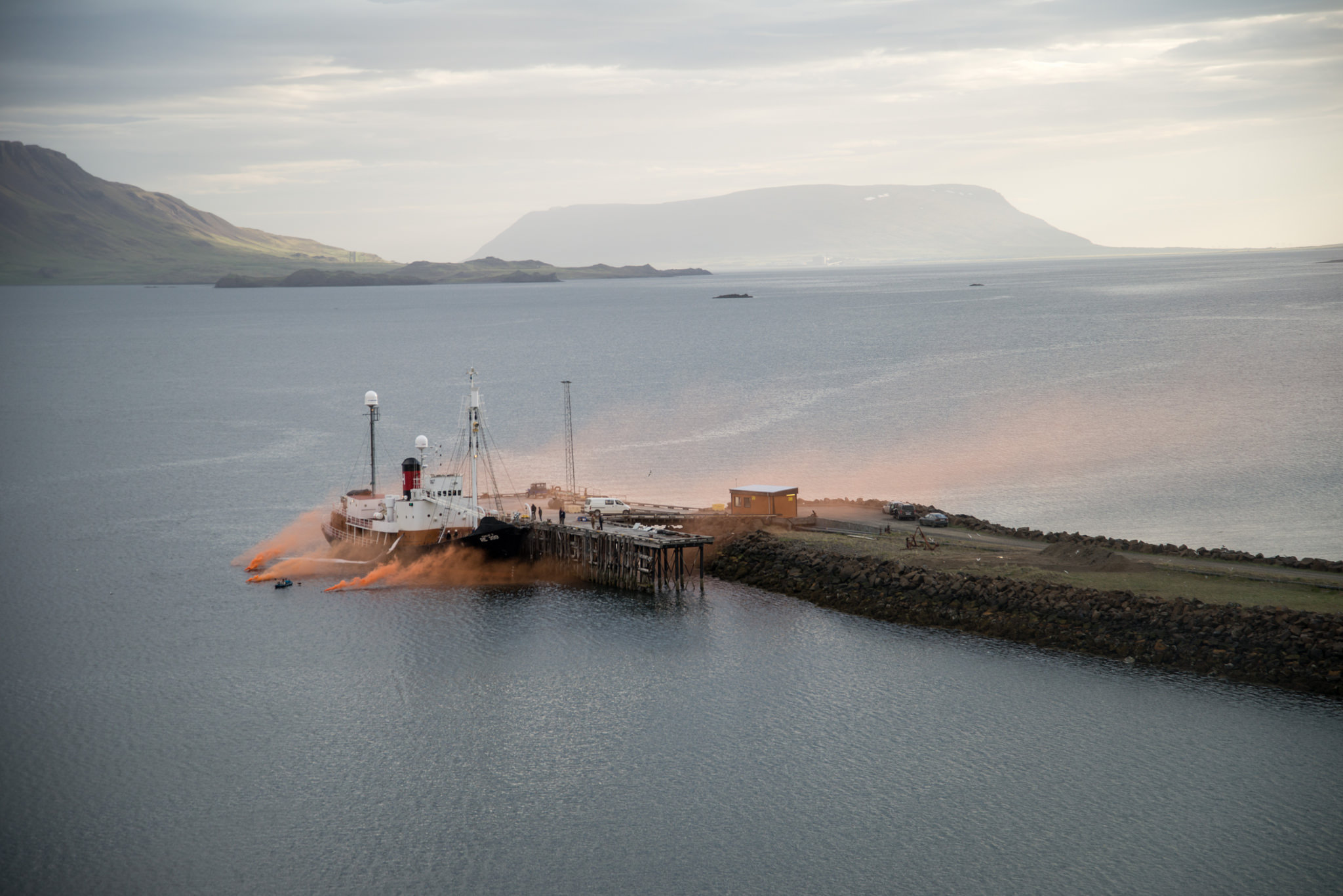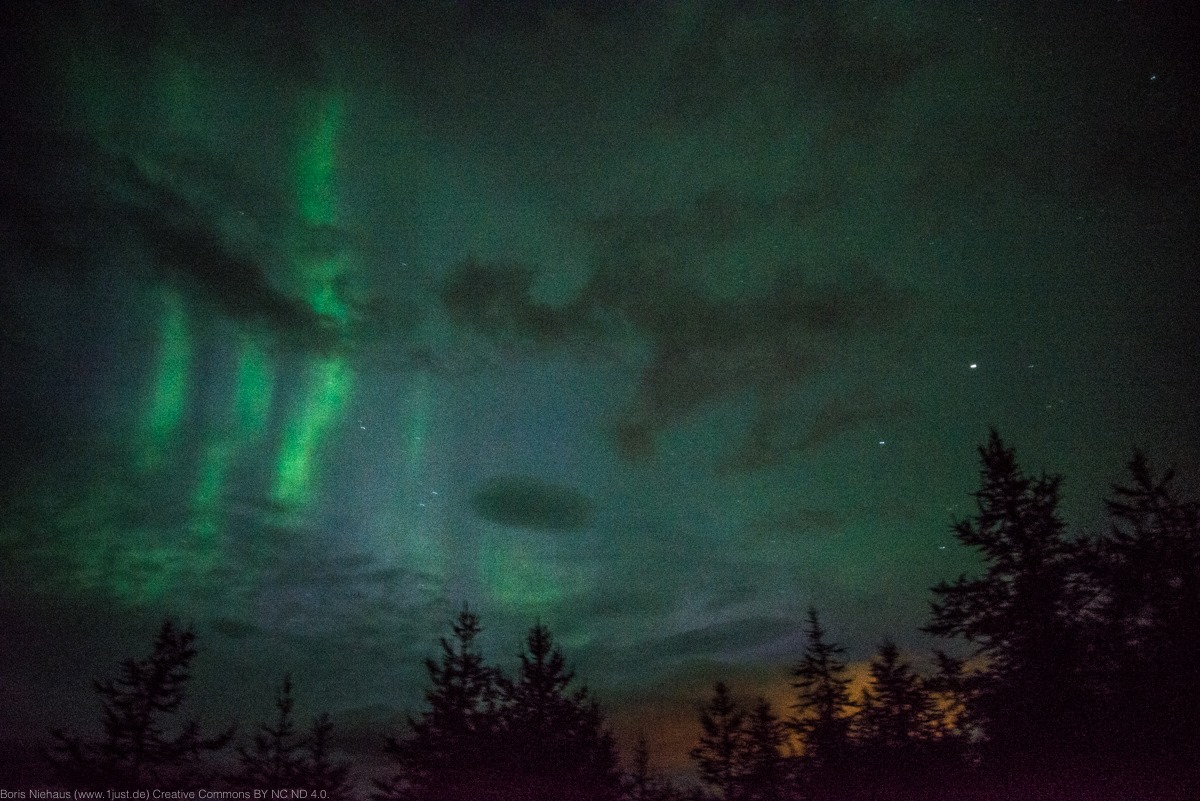 [vc_row][vc_column width="1/1″]
Roajava, the kurdish Areas in northern Syria, 2014
As part of a Delegation (consisting of Medics and Journalists) i traveled into Rojava, the de facto autonomous region in northern and north-eastern Syria. We´ve been there for almost 2 weeks, visited the NEWROZ-refugee camp and had Interviews with the ministers of the current administration.
Some more Infos can be found here: http://rojava.berlin/.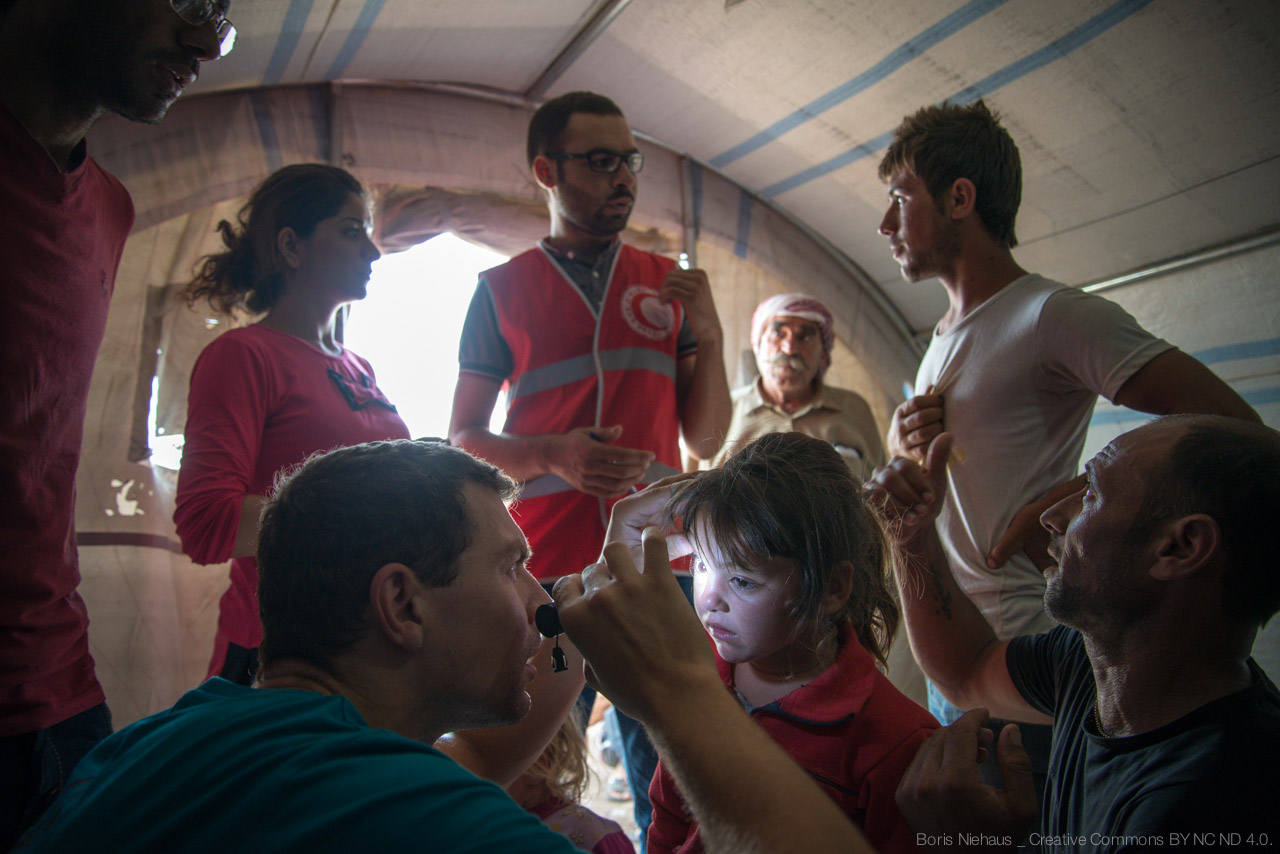 Photo: One of our Medics taking a look at a girl inside the NEWROZ refugee camp. Below: Interview taken with Yesides who fled from Shingal (Photo by S.).
[/vc_column][/vc_row]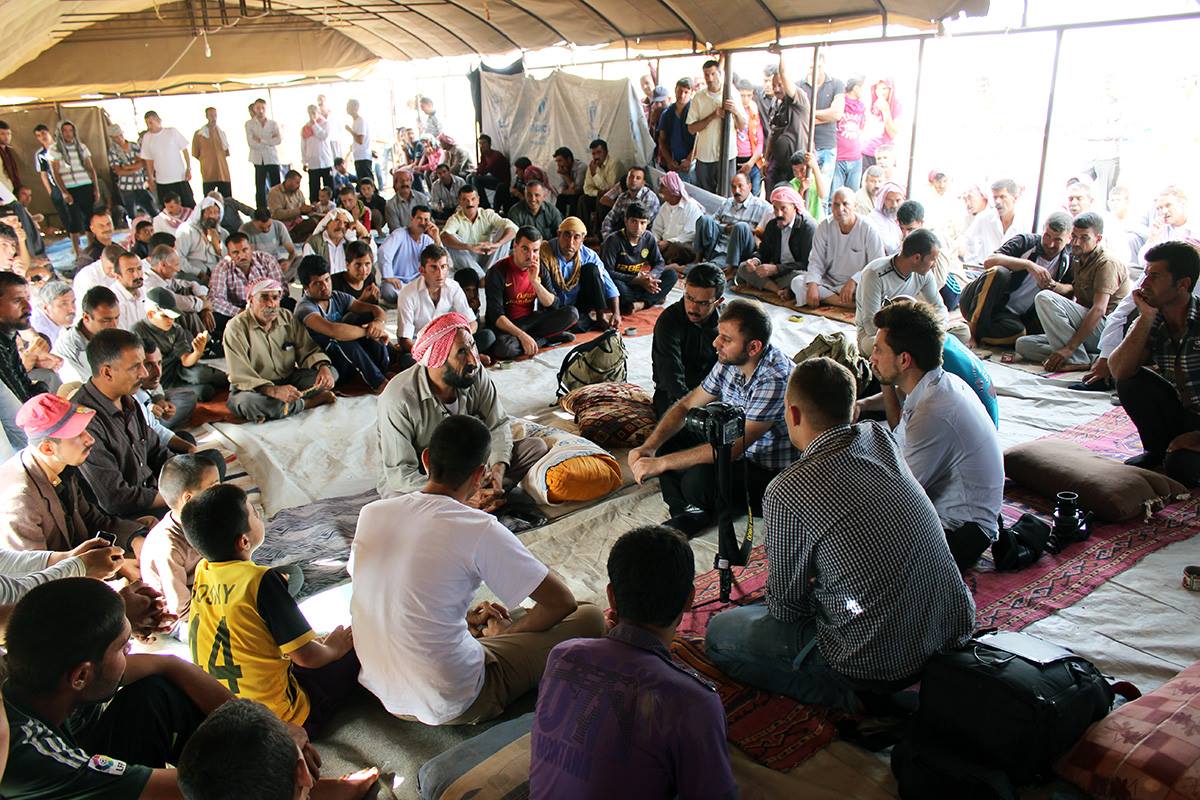 [vc_row][vc_column width="1/1″]
Israel, Westbank and Gaza, 2014
Together with my Colleagues Björn Kietzmann and Marcus Golejewski i traveled to Israel, the Westbank and into Gaza, early August 2014.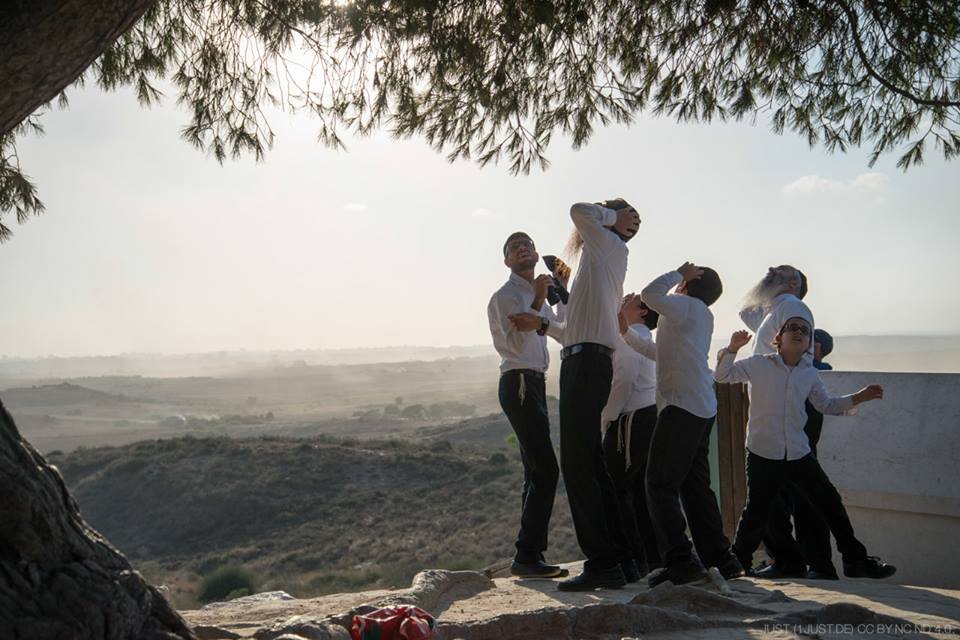 Photo: Under attack. On a hill in Israel, a Jewish family gathered to watch rockets coming out of Gaza. At the same time, artillery belonging to the Israeli Defense Force shot back into the city of Beit Hanun in Gaza (August 3rd 2014).
[/vc_column][/vc_row]
[vc_row][vc_column width="1/1″]
Iraq & Kurdistan, 2014
In June 2014 my College
Dyfed Loesche
and me traveled to Iraq to cover the rise of the militant jihadist group ISIL / ISIS. We arrived in Arbil (KRG) one week after Mosul fell into the hands of ISIS. During our stay we met several kurdish politicians, we visited two refugee camps, the frontline outside Kirkuk and met Ahmed Chalabi.
Please take a look at my Slideshow.
Photos and Texts got published on DEMOTIX, CORBIS, ZENITH, VICE, the Guardian, der Freitag and Jungle World.
Photo: Lorin (27) is a former Art-teacher who fled from the ongoing war in Syria. We met her in a refugee camp in Akre in northern Iraq. Her painting on the wall is saying: "I want to go home". Below: Checkpoint near Mosul.
[/vc_column] [/vc_row]
[vc_row][vc_column width="1/1″]
On Bible-Belt-Tour with Sookee, 2013
In September 2013 i joined
SOOKEE
,
DJ BOOGIE DAN
and
SHIRLETTE AMMONS
on a Tour through the BIBLE-BELT in the southern States of the United States.
I mainly shot Video and here´s a first Clip edited by P. Jankowski. Some Photos can be found here, or here on Facebook. Tour-Dates:
5.9.13: sook w/ Hank & Cupcakes at The Pinhook (DURHAM NC).
6.9.13: sook + shirlette ammons at Hopscotch (RALEIGH NC).
7.9.13: sook at Hopscotch Day Party at Tir Na Nog w/ Toon (RALEIGH NC).
8.9.13: sook + shirlette house show (CHARLSTON SC)
9.9.13: sook at Underbelly (JACKSONVILLE FLORIDA)
10.9.13: sook at The Church of Holy Colors (GAINSVILLE FLORIDA)
12.9.13: sook + shirlette at SHIPROCKED! (CHARLOTTE NC)
13.9.13: at Queer People of Color Collective Pride Event (GREENSBORO NC).
14.9.13: sook + shirlette at Red Dog's Wrightsville Beach (WILMINGTON NC).
---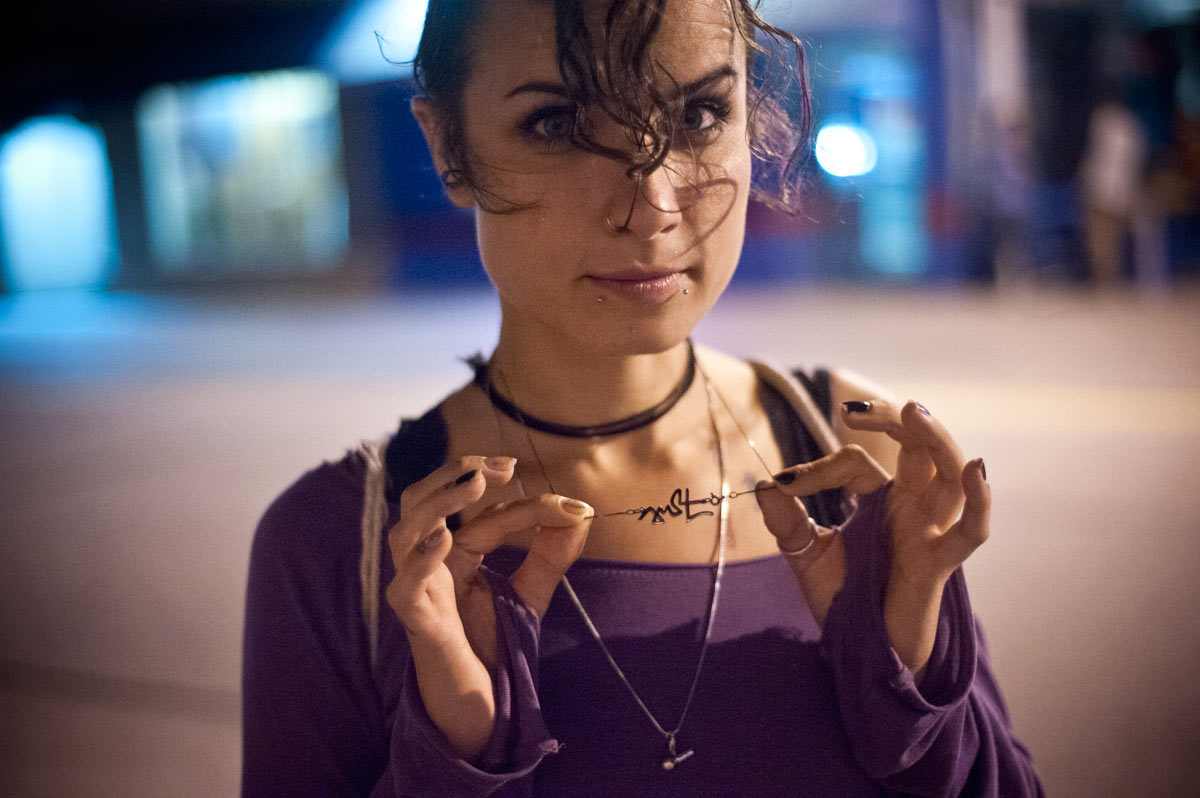 Photo: Sookee in Wilmington (North Carolina) right before the last Show of the Tour.
[/vc_column][/vc_row]
Aleppo Syria, 2012
Together with
Thomas Rassloff
i traveled to Syria in December 2012. Here´s a
Slideshow
with Photos i took.
Back in Berlin i gave several Radio-Interviews, i published some of the Photos i took on ZEIT.de (Photos/Article, arabspingcollective by Hanno Pöppel), Tagesspiegel (print/web), TAZ (print/web), ZITTY (web/print), TIP (print/web), NRZ (print/web) and the "Letters of Aleppo" (including a 5th Day) got published in the swiss Magazine REPORTAGEN. The Release of REPORATGEN got celebrated with an Exhibition/Installation at Stattbad in Berlin (curated by openwalls-Gallery).
In February 2013 i was invited to the Committee on Human Rights and Humanitarian Aid of the german Government. Below: Just 30 minutes before i took that Photo, a rocket by the Assad-Regime hit this Ambulance. The rocket was shot from miles away and was only meant to hit rebel held territory. // FSA-Fighters.
---
---
[vc_row][vc_column width="1/1″]
One Day in the Westbank, 2012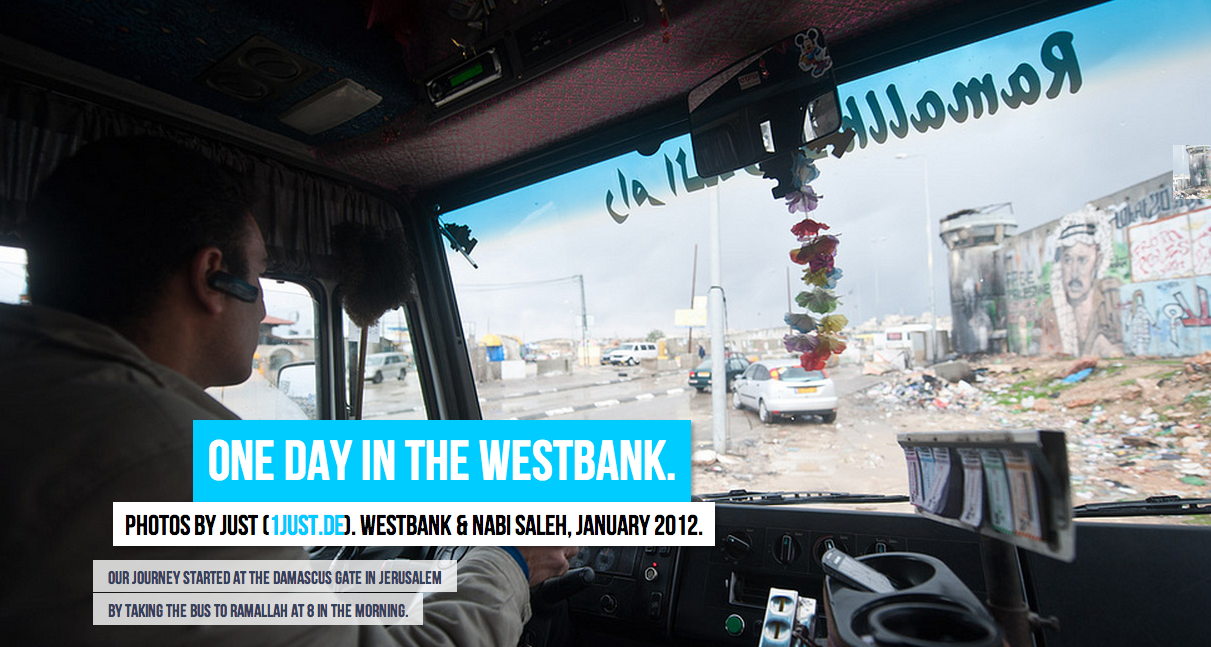 [/vc_column][/vc_row]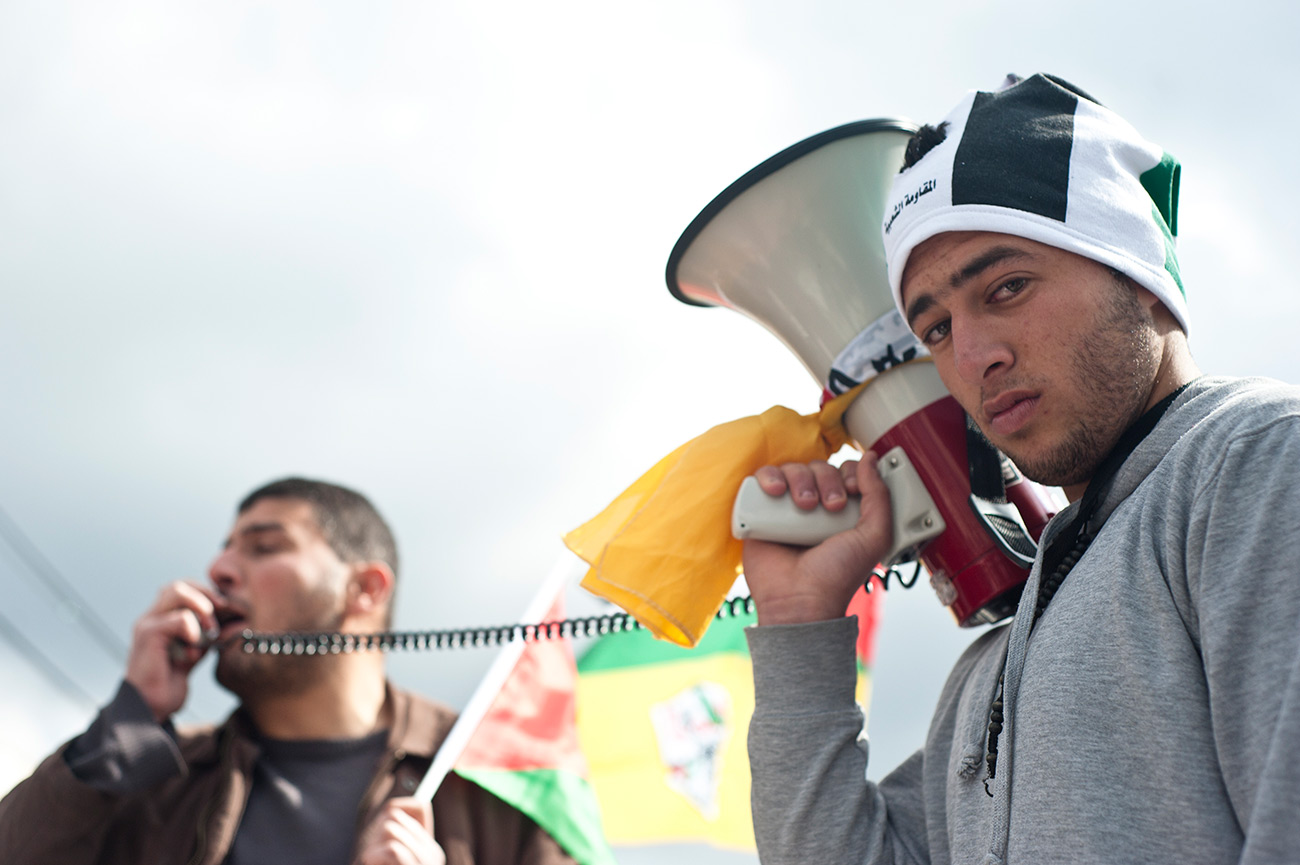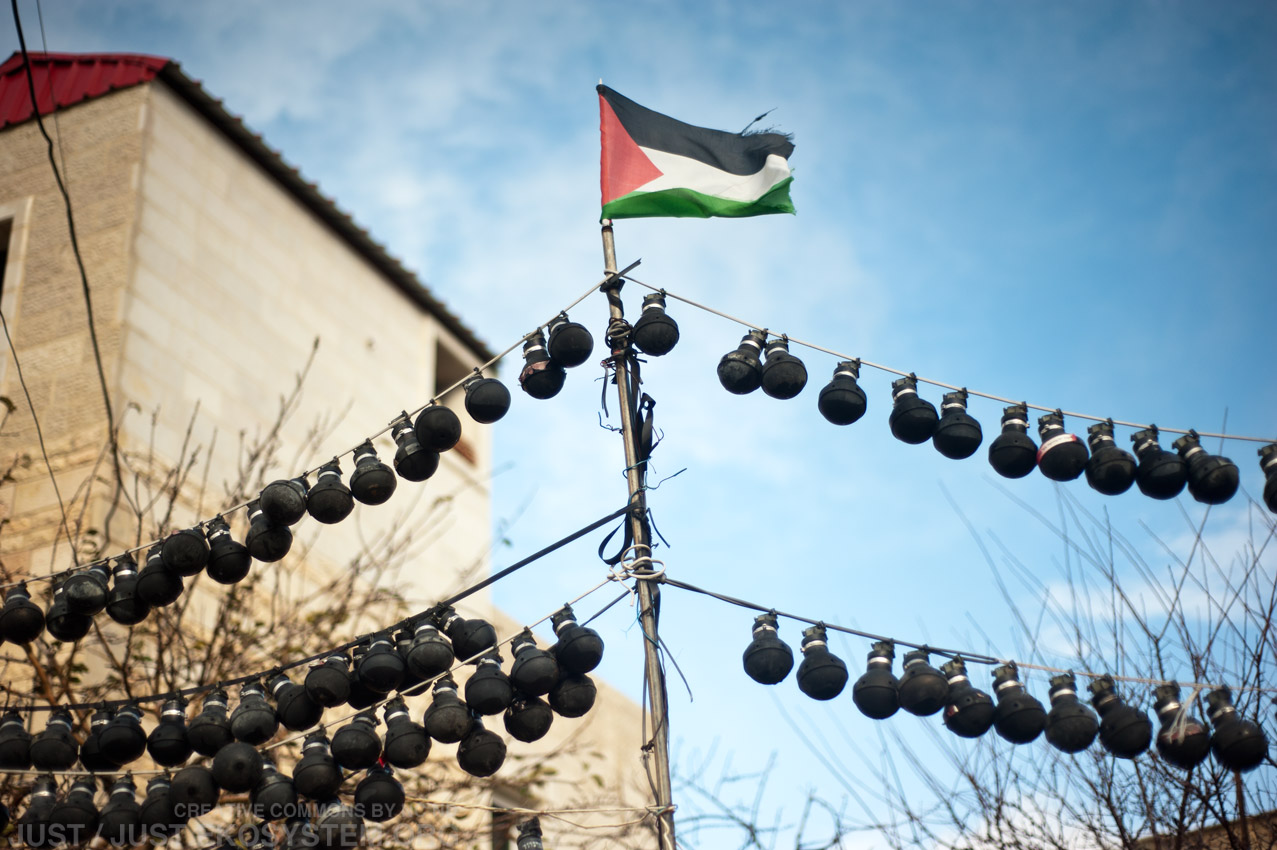 ---
[vc_row][vc_column width="1/1″]
Doswidanja Sowjetunion – Schalom Deutschland
Unterstützt durch das Presse- und Informationsamt der Bundesregierung (BPA), entstand unter Leitung von Levi Salomon (Vorsitzender des Büros zur Bekämpfung des Antisemitismus der Jüdischen Gemeinde Berlin) die Broschüre "Doswidanja Sowjetunion – Schalom Deutschland". Die Broschüre (und Film) untersuchen 20 Jahre jüdische Zuwanderung aus der ehemaligen UdSSR.
Text: Bastian Hagedorn, Isabella von Hobe, Myriam Rabolt u.a.
Fotos: Boris Niehaus
Gestaltung: Johannes Boettger
Projektleitung: Levi Salomon
Das Magazin Jüdisches Berlin zum Projekt:
"(..) Die Broschüre »Doswidanja Sowjetunion – Schalom Deutschland« gibt einen persönlichen Einblick in die Schicksale der Zugewanderten und ihrer Kinder und zeichnet ihren von Höhen und Tiefen, Erfolgen und Misserfolgen geprägten Weg nach. In der Broschüre kommen unterschiedlichste Protagonisten dieser Zuwanderung zu Wort: Ein Maler erzählt von seiner Ankunft im Jahre 1990 und der anschließenden Odyssee durch Berliner Wohnheime. Kriegsveteranen der Roten Armee berichten über jährliche Feierlichkeiten zum Tag des Sieges. (…)
Aber auch der Antisemitismus in der ehemaligen Sowjetunion, der für viele ein Grund zur Ausreise war, sowie das paradoxe Verhältnis zu Deutschland, welches ja nicht nur das sprichwörtliche »Land der Dichter und Denker«, sondern auch das ehemalige Land der Nationalsozialisten ist, kommen zur Sprache. Was war das wichtigste Jahr seit ihrer Ankunft in Deutschland für Sie? Gibt es in Berlin einen Ort, der bezüglich Ihres Lebens in dieser Stadt einen zentralen Stellenwert besitzt? (..)".
---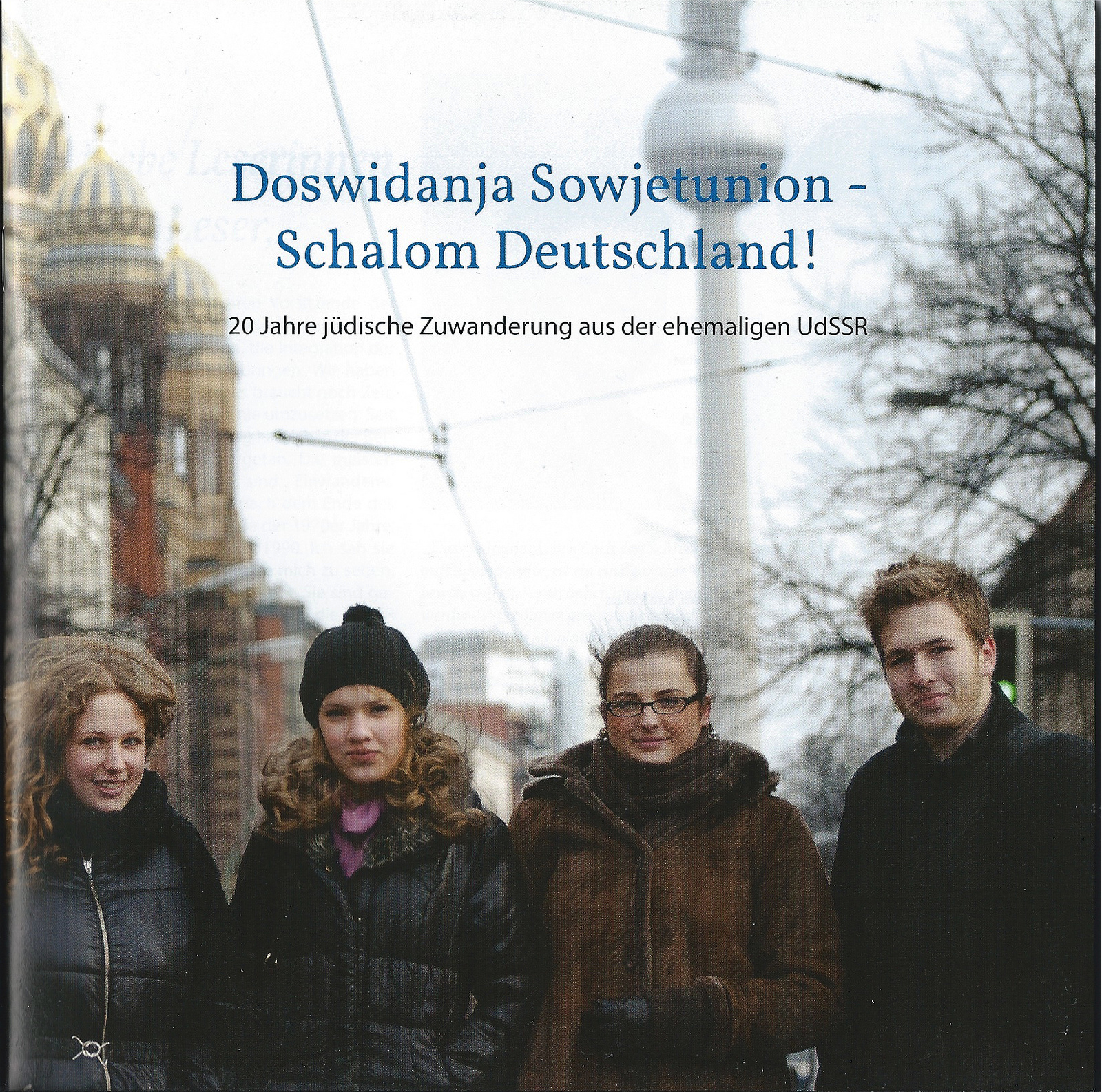 Cover der Broschüre.
[/vc_column][/vc_row]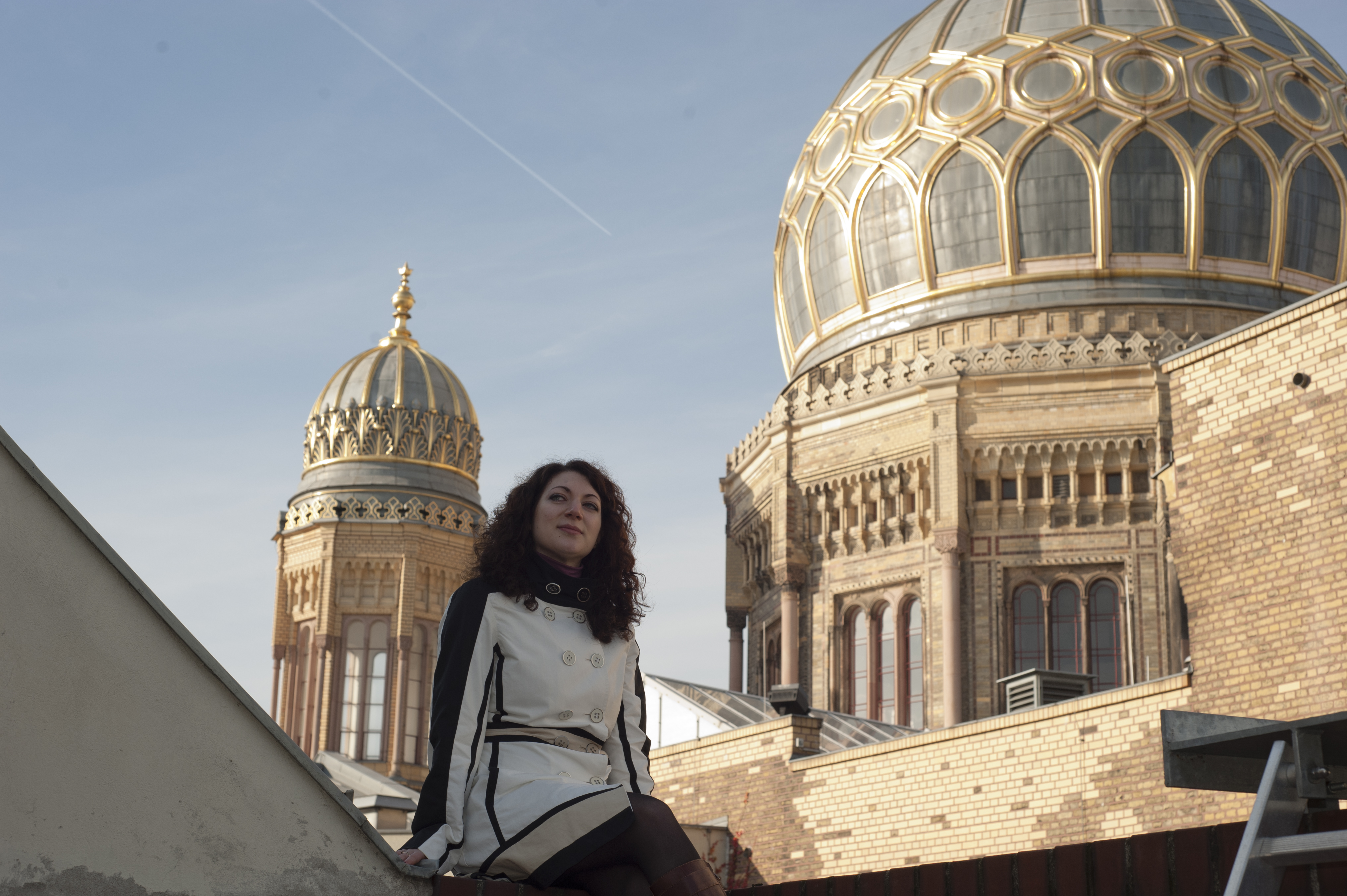 ---
[vc_row][vc_column width="1/1″]
Streetart & Graffiti
I´m probably best known for documenting the Streetart-movement in Berlin. In fact i begun taking photos of our own Graffitis nearly 15 years ago. Meeting Artists and seeing all this creative (and sometimes criminal) energy fascinates me. And it never let me go.
Please follow this Link for a tiny fracture of Photos i took during the last couple of years meeting Artists around Europe.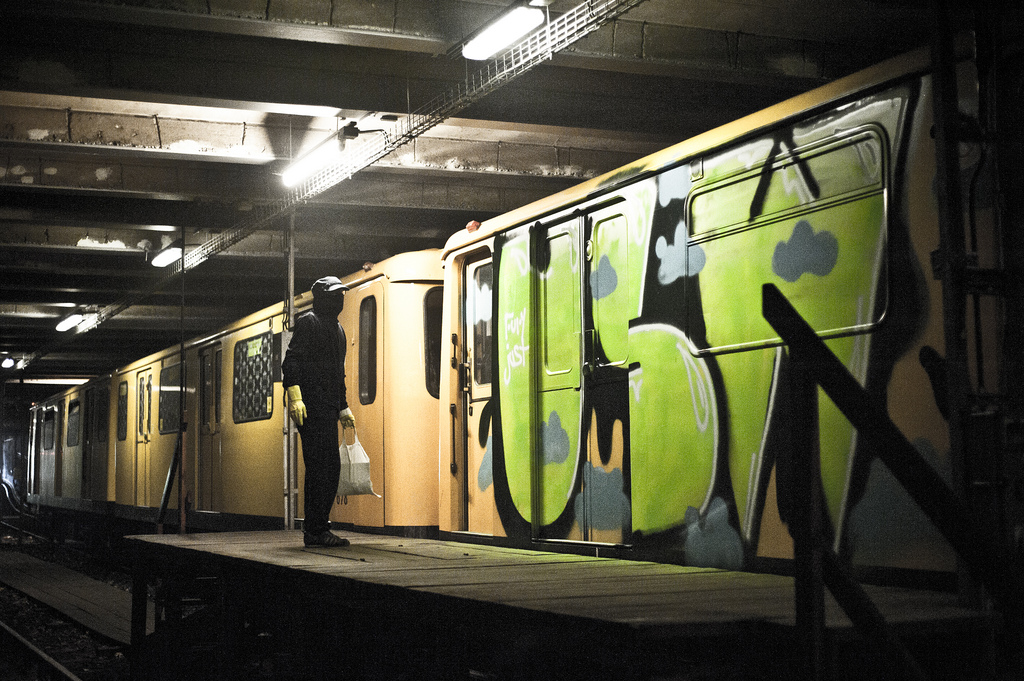 FURY / USW-Crew while painting a Subway in Berlin. Below: French Artist L´ATLAS in Berlin 20111 and Victor Ash painting his iconic Cosmonaut in Berlin-Kreuzberg (organised by BACKJUMPS in 2007).
[/vc_column][/vc_row]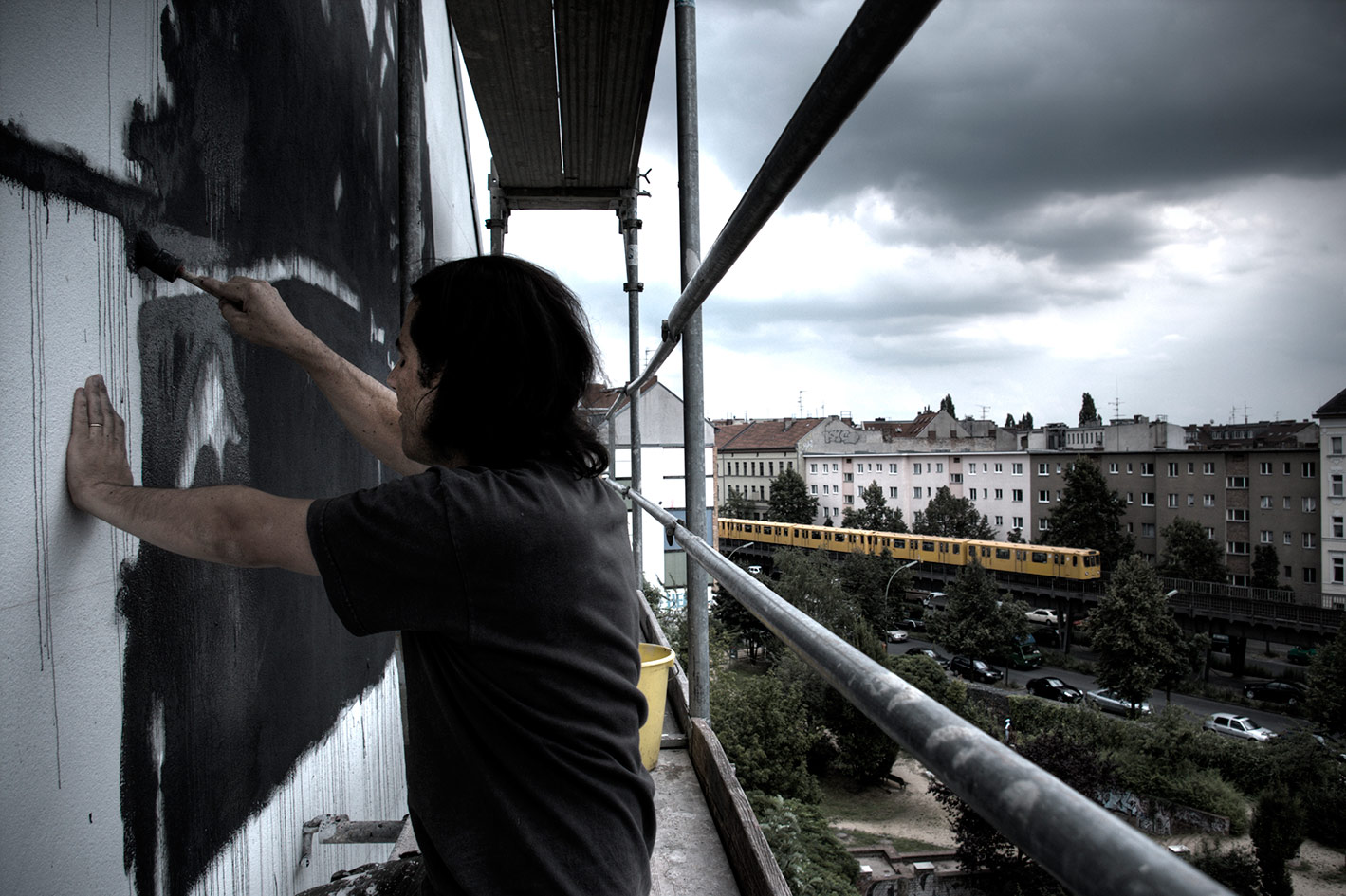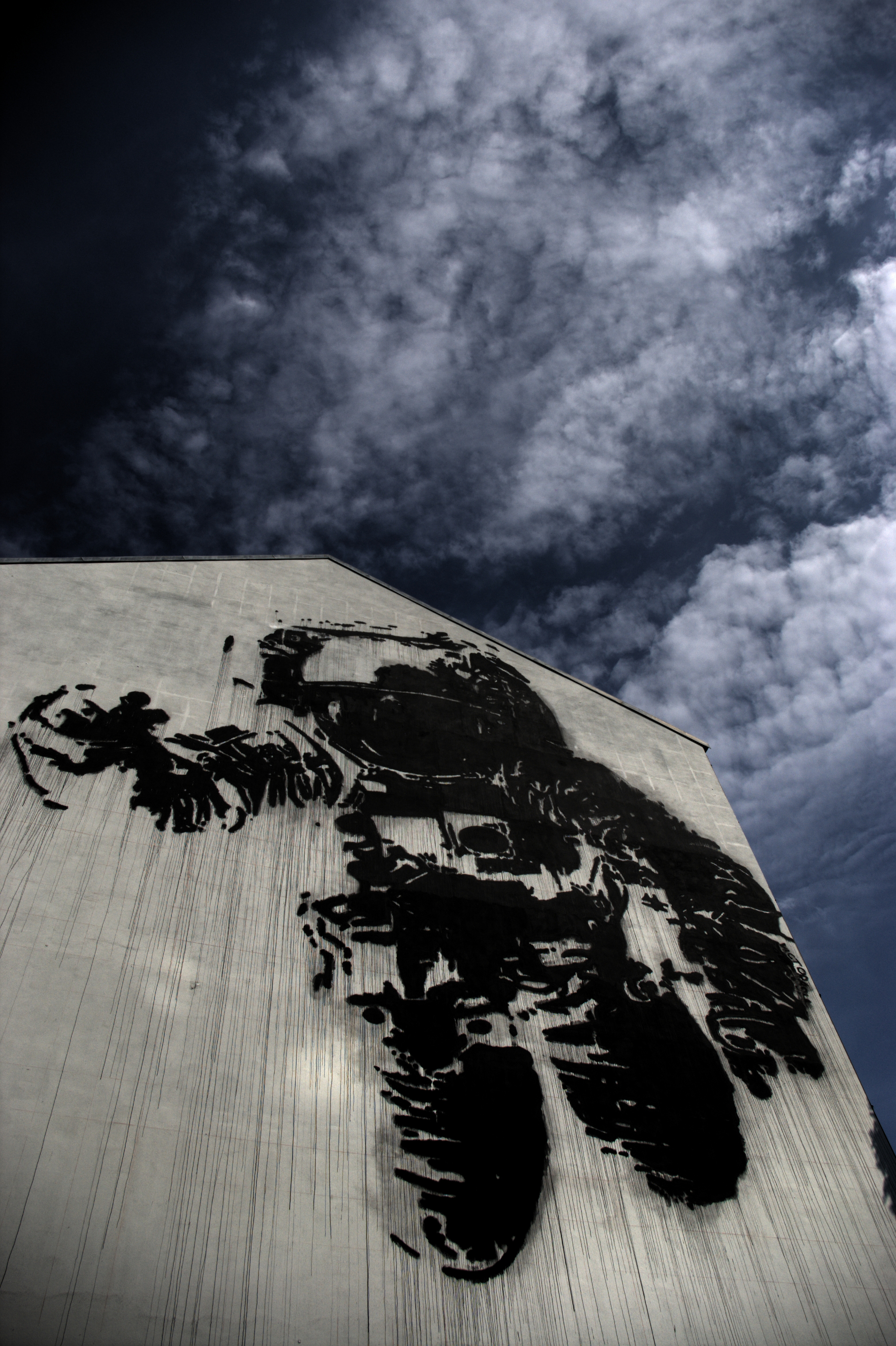 ---
[vc_row][vc_column width="1/1″]
Berlin Festival, 2015
Some photos i took during the Berlin Festival in 2015 can be found
here
.
[/vc_column][/vc_row]
Support:
There are several ways to support my work. You could support an upcoming crowdfunding-campain, you could donate via
Paypal
, or Bitcoins (37z6sroxugwDmiLnuSyJQh892eFiiRY6sH). There are also some prints available on
TWYLA
. Poster and Shirts can currently be bought at
Stilbruch21 in Berlin-Friedrichshain
.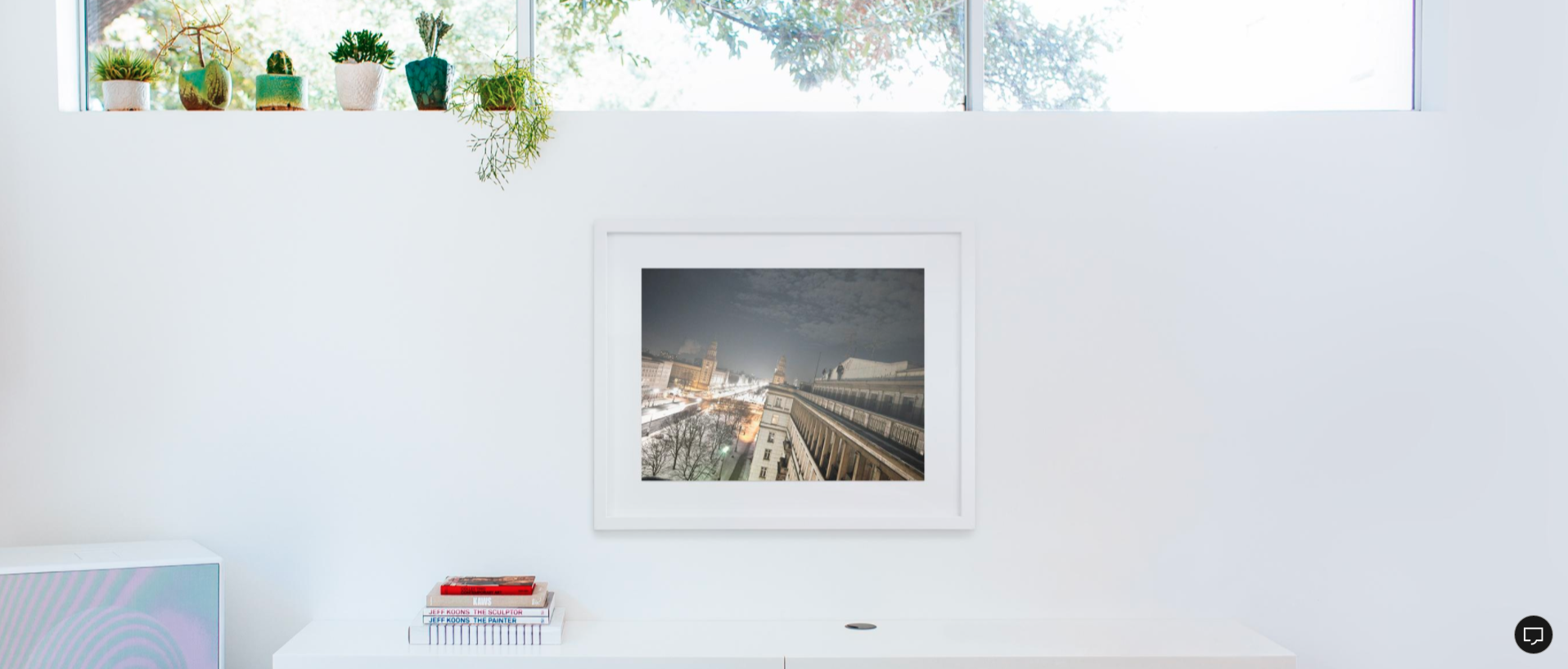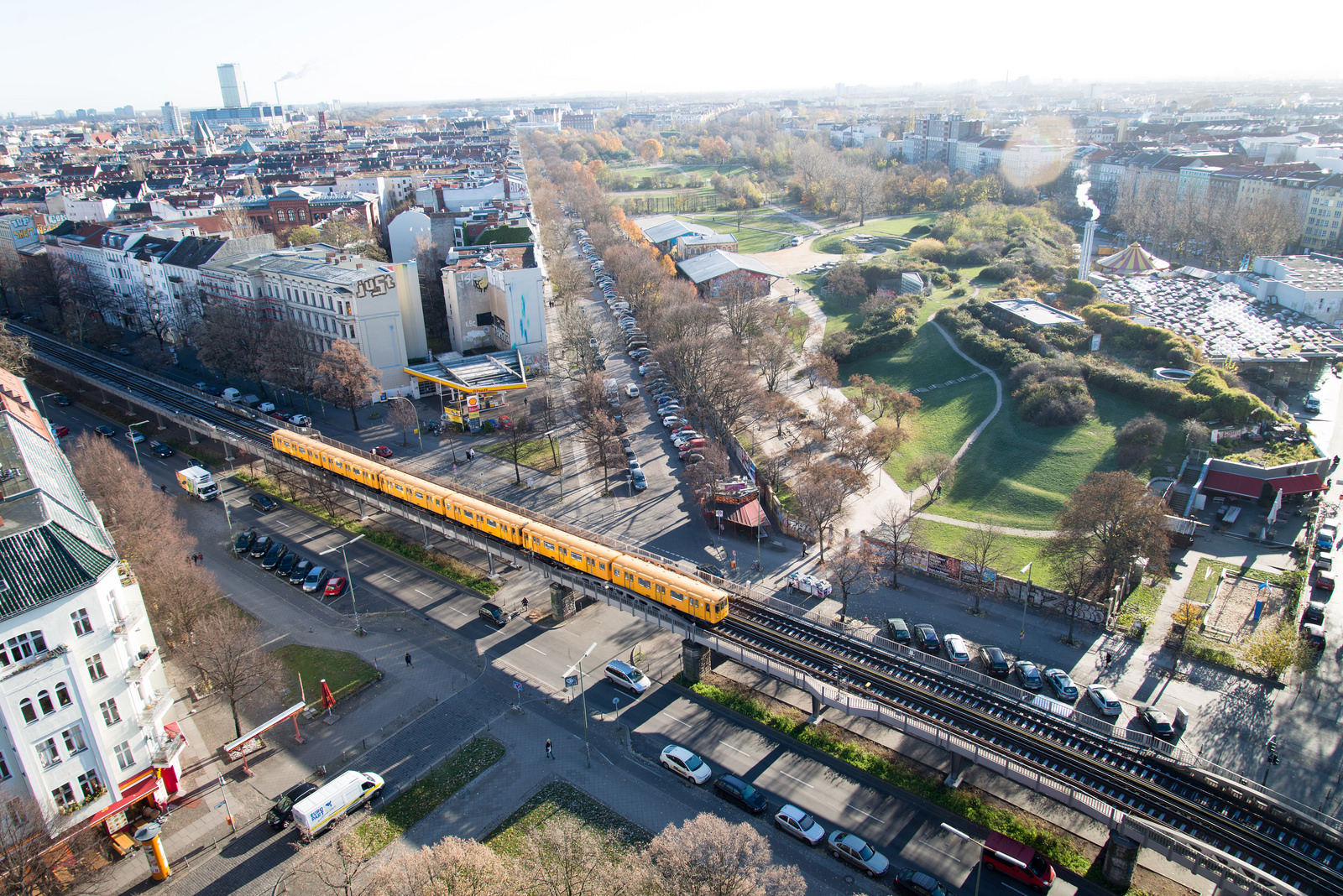 Hello