JUST
Berlin based Artist, Blogger and Photographer / Photojournalist.
Just's breathtaking photos are dramatic documents of daring graffiti artists in action. Through them you can vicariously experience the danger and thrills of rooftop writing." - Martha Cooper.
Photo-Blog and Photo-Page on Facebook, 1st german speaking Streetart-Blog (2007 - 2011).
Mail: hey@1just.de
---
#1: I took this Photo while painting a Rooftop with the US-Artist ABOVE in 2012 (
available as art-print). #2: "Catch me if you can.." Photo taken at 1st of May 2011 in Berlin-Kreuzberg (
available as art-print). #3: Danish Artist DOLK in Berlin in 2008. #4: Right before painting a Graffiti on a Rooftop in Berlin (winter 2008) (
available as art-print). #5: One Day in the Westbank in 2012 (
Slideshow)
Together with Thomas Rassloff i traveled into Syria in December 2012 to cover the ongiong civil-war. It was my first real Travel into a conflict-zone and every Day i wrote Letters describing my Impressions wich got published on NERDCORE.de (
1,
2,
3
,
4
). Here´s a
Slideshow with a Selection of Photos.
Back in Berlin i gave several Radio-Interviews, i published some of the Photos i took on ZEIT.de (Photos/Article, arabspingcollective by Hanno Pöppel), Tagesspiegel (print/web), TAZ (print/web), ZITTY (web/print), TIP (print/web), NRZ (print/web) and the "Letters of Aleppo" (including a 5th Day) got published in the swiss Magazine REPORTAGEN. The Release of REPORATGEN got celebrated with an Exhibition/Installation at Stattbad in Berlin (curated by openwalls-Gallery).
In February 2013 i was invited to the Committee on Human Rights and Humanitarian Aid of the german Government.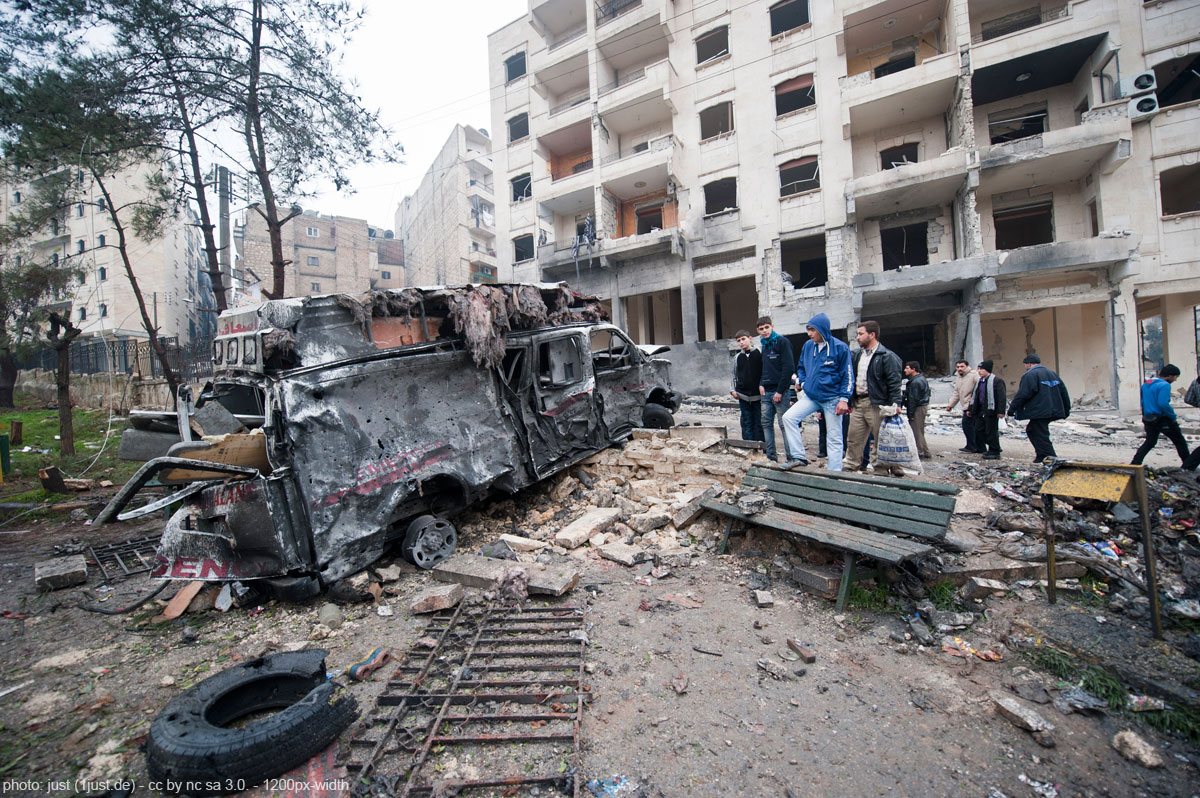 Exhoibitions and Publications (INCOMPLETE):
Exhibitions: Urban Affairs 2008 & 2009 SoloExhibition ATM-Gallery, Berlin 2009 GroupExhibition 30Works, Cologne 2009 GroupExhibition, Vienna 2010 EVOL & JUST // Monat der Fotografie in Berlin 2010 Hallenkunst, Chemnitz 2012 Lettrers from Aleppo, Stattbad Wedding Berlin (Curated by Openwalls), 2013
Publications (Print & Web): Focus-Online, New York Times, ART Magazine, Zitty, TIP, Spiegel Online, Siegessaeule, Tagesspiegel, Backspin, TAZ, Missy Magazine, Mondial, Streetwear Today, Ehrensenf, Linux Magazine, TRUST, VNA, HATE Magazine, PROUD-Magazine, Berliner Zeitung, BVG-Magazine, DesignWeek, Tages-Anzeiger, derFreitag, Rugged, Modart.. and many more.
Publications (Books): # Backspin the Live Issue #3 # Call it what you like / Rik Reinking # Streetart in Berlin / Jaron Verlag # Urban Art aus der Sammlung Reinking # Part of Rebellion Part 2 (Dave the Chimp) # Mural Art 1 & 2 # Beyond Architecture # MODART BOOK 1 # MODART BOOK 2 # INGRAFIKA # TURMKUNST # THE ART OF REBELLION 3 # URBAN INTERVENTIONS (Gestalten Verlag) # GRAFF WARS # OUT OF STH (BWA WROCLAW)
Project / Clients: # ARTE # JUEDISCHE GEMEINDE / BERLIN # Riot-Arts # Zitty-Berlin # ARTOTALE Lueneburg # TURMKUNST 2010